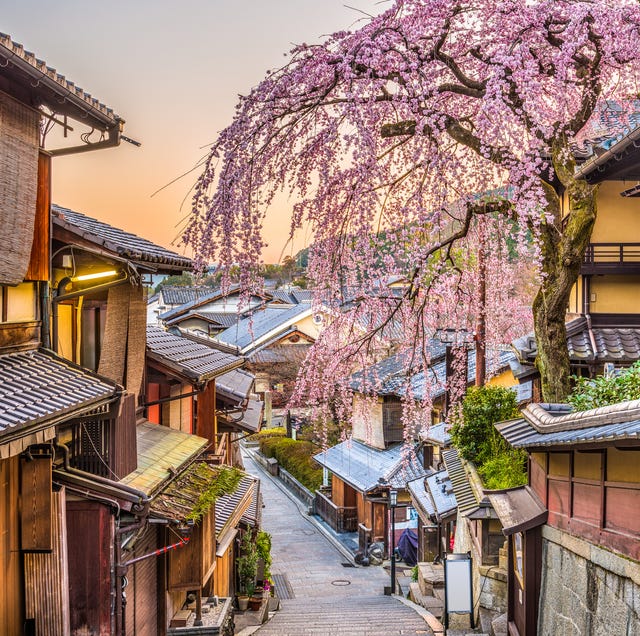 Wondering where to go on holiday in 2020? Red's pick of the top holiday destinations to visit next year will give you all the wanderlust you came here for. Just as we expected, 2020 is set to be a bumper year for travel, with long-haul adventures, active getaways and women-only expeditions ( a few dreamy beach escapes) firmly on our radar.
For us, it's a year to venture far from what you know and try something new. It's about visiting alternative places or returning to the best-loved locations in a new way. So, if you've always wanted to see the Northern Lights, our hot list includes a destination that's better than Iceland. Or if you're desperate to visit Japan, we've picked the best time of year for you to visit.
Whatever your holiday style and whichever season you're looking to travel in 2020, our guide to the best holiday destinations covers European breaks, escapes for couples, long-haul wonders and solo adventures. Here's Red's holiday ideas for 2020.
1
Where to go on holiday in January - Finnish Lapland
Forget Iceland. For a better chance of spotting the Northern Lights in 2020, you'll want to head above the Arctic Circle to Lapland where displays are more likely to appear. Finland is one of the top holiday destinations for winter holidays and offers plenty of activities alongside Northern Lights hunts. Head there between January and March, and you can enjoy the best of husky sledding, snowshoeing and sleeping in a glass-roofed Aurora Cabin, too.
Alternatively, equally stunning Swedish Lapland is home to the incredible Icehotel, where you can sleep on a bed made of ice and visit the Abisko National Park, known as one of the best places in the world to see the Northern Lights.
2
Where to go on holiday in March - Paphos
It's a popular Mediterranean spot for beach lovers heading to Europe but have you ever considered an active trip to Paphos? On a tennis holiday at the luxurious Aphrodite Hills, you'll hit the courts for group and one-to-one-sessions so you can return to the UK feeling great and with some new skills to boot. There'll be plenty of time to relax in the spa and explore Paphos' gorgeous surroundings, such as the Troodos Mountains, when you're not practicing your serve. Who said couples' holidays had to be all fly and flop?
3
Where to go on holiday in April - Japan
If there's one destination on everyone's lips right now, it's Japan and 2020 is the year to make it happen. Thanks to Red's exclusive trip to the country in spring, you'll get to see the breathtaking cherry blossom displays, explore buzzing Tokyo, take in the culture of Kyoto and meet adorable snow monkeys. There's loads more to see and do during the April trip of a lifetime and you can take advantage of a business class upgrade offer to really make it a dream holiday.
4
Where to go on holiday in May - Uzbekistan
If going off the beaten path is how you'd like to spend your 2020 holiday, Uzbekistan is the place to visit. Taking to the legendary Silk Road you can experience a different kind of road trip as you stop at architectural wonders, open-air markets, silk factories and wineries. There are also ancient cities and desert castles to discover. It's like nowhere you've ever seen.
5
Where to go on holiday in June - Jordan
For a Middle Eastern adventure that's perfect for enjoying solo or with your best friend, try Jordan and a women-only trip to its most magnificent sites, from breathtaking Petra to vast Wadi Rum. You'll really get to know local life on this trip, learning the beauty secrets of Jordanian women and spending a day with a female shepherd. Of course, there'll be plenty of opportunities to relax too as you bathe in the Ma'in Hot Springs and float in the Dead Sea.
6
Where to go on holiday in July - Maldives
When it comes to beach holidays, the Maldives is pretty hard to match thanks to its heavenly sands and seclusion - but why is it hot for 2020, you ask? A hot new resort has opened and it's everything we've been waiting for. SAii Lagoon Maldives, Curio Collection by Hilton, is stylish, sustainable and entertaining. A footbridge from the private island takes you to a marina for dining, shopping and activity spots, while at the hotel itself, you'll find alfresco restaurants and beautiful interiors, just a hop away from Male Airport.
7
Where to go on holiday in September - Morocco
If you've always wanted to do Morocco while going beyond Marrakech, a women-only adventure is a great place to start. You'll still get to see the Red City, visiting the stylish, blue Majorelle Garden and admire the Koutoubia Mosque, but have the opportunity to take a less trodden route by hiking to a village in the Atlas Mountains, learning the traditional method of cooking couscous and relaxing with an authentic hammam experience - complete with Moroccan black soap exfoliation and an argan oil massage.